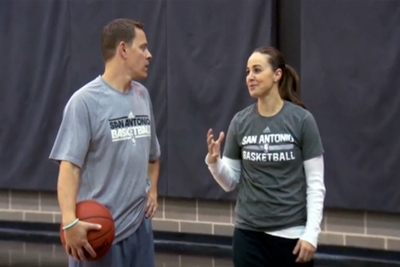 San Antonio, TX (KWSN) - Former South Dakota basketball standout Becky Hammon has been named an assistant coach for the San Antonio Spurs, making her the first full-time female coach in NBA history. The six time WNBA All-Star and three-time NCAA All-American at Colorado State is finishing up her 14th and final WNBA season with the San Antonio Stars, a sister origination of the Spurs. Hammon's career has also taken her to Russia, where she was also named Euroleague All-Star multiple times.
"I very much look forward to the addition of Becky Hammon to our staff," said Spurs Head Coach Gregg Popovich. "Having observed her working with our team this past season, I'm confident her basketball IQ, work ethic and interpersonal skills will be a great benefit to the Spurs."
Dan McCarney of the San Antonio Express joined KWSN's Sports Talk with Craig and Chris Tuesday afternoon, and said the hiring was no accident. McCarney said the Spurs organization has thought highly of Hammon ever since Silver Stars acquired her via trade in 2007. He went on to speculate that Hammon's role with the team may be a special assistant, responsible for scouting and some player development.
Hammon played her high school basketball at Rapid City Stevens high school before heading to Colorado State to play collegiately. While with the Rams Hammon became the Mountain West Conference's all-time leading scorer. Hammon holds citizenship in both the USA and Russia, and has represented both countries in international competition.
Some info courtesy: San Antonio Spurs