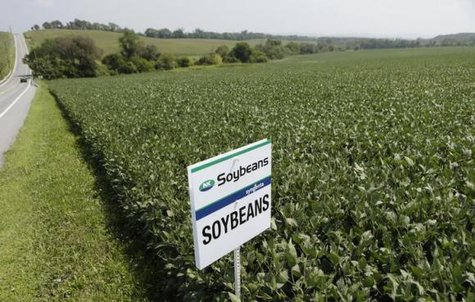 BY GAVIN MAGUIRE
Chicago, IL (Reuters) - With corn and soybean prices languishing at their lowest levels in years under the weight of projections for record-large harvests this fall, American growers look set to try to store rather than sell as much of this year's supplies as possible.
And with U.S. on-farm storage capacity at over 13 billion bushels at its highest level in 25 years, farmers theoretically have plenty of room to squirrel away large chunks of this year's production until higher prices prevail.
Yet as abundant as storage options may be, this year's corn and soybean crops are likely to be so large that they will surpass total on-farm storage capacity by several billion bushels, even if no other crops such as wheat, sorghum or barley take up space in on-farm silos.
In fact, national corn and soybean output will likely surpass total on-farm storage capacity by a record 4.84 billion bushels this year to suggest that farmers will need to sell off a meaningful portion of their crops at harvest whether they want to or not.
But not all growers will be in the same position, as Eastern Corn Belt producers are likely to face larger overhangs of fresh supplies than growers located farther West due to less storage capacity out East.
This means that growers will need to take into account local and regional storage tendencies as well as their own storage capabilities when trying to calculate whether they should sell now or store for later.
MAKING ROOM
Recent reports from cash grain brokers suggest that growers throughout the Midwest have recently been clearing out any crop supplies left over from last year to make room for the upcoming projected record haul.
And while such house cleaning takes place this time every year, growers seem to be especially committed to storing this year's crops because of the prevailing low price of both corn and soybeans, which have fallen below the cost of production in some areas.
What's more, the current forward structure of the corn futures market rewards growers who are able to hold off from selling their grain over the near term by offering higher prices for deferred delivery slots. This contrasts with the forward price curve of the U.S. soybean futures market, where nearby prices are trading at a premium to later dates.
But this does not necessarily mean that those growers who can store their crops in the West will be guaranteed higher prices later on.
Growing states dotted along the fringes of the Midwest such as Kansas and South Dakota are also projected to have more crops than they can store this year, and will likely filter any resulting crop sales to consumers located on the Western half of the county, and thereby steal market share from core WCB growers.
The growers who can hold off from selling into the currently depressed markets have a chance of receiving higher prices down the road in the event of some as-yet-unexpected rally.
But at the same time, there is also a risk that crop prices may slip further going forward, which could leave growers holding large stockpiles and ruing the fact that they did not fire off more sales when they had the chance.