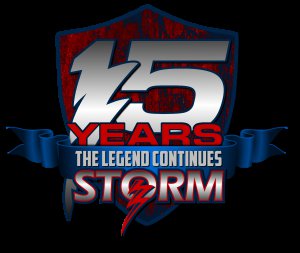 Sioux Falls, SD (KWSN)- On Friday, February 21st at 7:05 PM, the Sioux Falls Storm will host the Nebraska Danger. The kickoff will mark the beginning of the 15th season of indoor football in Sioux Falls.
In 2000, the indoor team was introduced as the Sioux Falls Cobras. One year later, the name changed to the Storm and the team has been making history ever since. During the organization's first 14 years, the Storm has managed to capture an astonishing seven league championships.
In 2003, Kurtiss Riggs took the helm as head coach for the Storm, and under his leadership the Storm has amassed a record of 153-32. They've also posted a 95-9 record at the Storm Shelter during Riggs' tenure.
The Storm's storied history includes: a 40 game win streak, three undefeated seasons (2006, 2007, 2012), four consecutive UIF Championships (2005-2008), and three consecutive IFL Championships (2011-2013). The team enters the 2014 season attempting to complete their second four-peat.
In celebration of the 15th season of indoor football in Sioux Falls, the Storm has teamed up with CenturyLink to give back to the community. The primary focus of the partnership will be supporting the Sioux Falls YMCA and the many activities and programs offered to area youth.
Additionally, the Storm players will wear special edition helmets commemorating the 15th season, and the team has launched a new website. The site contains many new features including: daily updates, video footage, interviews, game highlights and more. In-game social media promotions spotlighting the fans of the Storm, will be integrated with the new website to honor the "9th Man."
"To be celebrating our 15th year of indoor football is a huge compliment to our great city of Sioux Falls. The consistency of our program is the secret to our success. From coaches, to players, to game day operations, to sponsors, to our fan base. It has been a privilege to be along for the ride for the past 15 years. What's even more exciting is our program is only getting stronger."
The Storm's 15th Season officially kicks off on February 21st at the Sioux Falls Arena. For tickets and information, visit www.siouxfallsstorm.com or call 274-6686.
Courtesy: Sioux Falls Storm