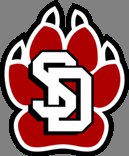 VERMILLION, S.D.—South Dakota scored the first 16 points of the second half and didn't look back in an 84-71 win against Fort Wayne Thursday inside the DakotaDome. The Coyotes (13-11, 4-5 Summit) have won four of their last five. The Mastodons (12-12, 5-5) have lost three of four.
South Dakota avenged an 18-point loss to Fort Wayne in mid-January. USD junior forward Nicole Seekamp didn't play in that game. She did Thursday and scored a team-high 19 points with five rebounds and seven assists. Seekamp was one of five Coyotes who scored in double figures.
Fort Wayne finished 3 of 27 from three-point range, including a 0 of 14 effort in the second half. The Mastodons made 13 treys in the first meeting in Indiana. Ariana Simmons came off Fort Wayne's bench to score a game-high 21 points and pull down eight rebounds.
The Coyotes' 16-point rally to begin the second half spanned six minutes and added to a 40-33 halftime lead. Seekamp hit a 3 to open the half. Polly Harrington converted a three-point play and banked in a three from the top of the key. Lisa Loeffler scored five of her nine points during the rally.
The Mastodons, meanwhile, missed their first seven shots and committed three turnovers. Summit League Player of the Year candidate Amanda Hyde scored 18 points, but needed 15 shots to get there. Haley Seibert, who hit seven treys and poured in 35 points in the first meeting, was 1 of 6 from behind the arc Thursday, but still managed 19 points. Fort Wayne scored 16 points from the free-throw line in the second half.
USD point guard Tia Hemmiller scored 11 points and pulled down a career-best 11 boards. She also had five assists against one turnover. Margaret McCloud didn't miss a shot all night. She was 5 of 5 from the field and 4 of 4 from the line for 14 points. She added nine rebounds and had three of USD's seven blocks. McCloud is shooting close to 60 percent from the field this season.
The two teams played evenly over the game's first 15 minutes, but Bridget Arens came off the bench to score four points and Raeshel Contreras knocked down a 3 to help turn a 27-26 deficit into a 38-29 lead. Contreras had two three's and 12 points. The Coyotes made 50 percent of their shots (28 of 56) and were 21 of 26 from the line.
Bryan Boettcher