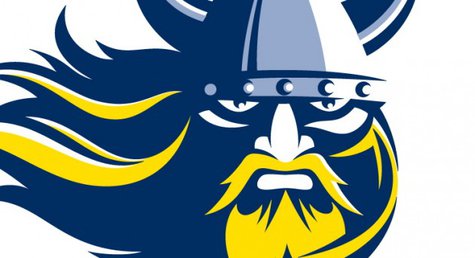 BURNSVILLE, Minn. – Augustana men's basketball sophomore forwards Daniel Jansen and Casey Schilling earned All-Northern Sun Intercollegiate Conference First Team honors the league announced on Thursday.
This is the second time since Augustana joined the NSIC that two players have been named first team All-NSIC in the same season. Cody Schilling and Cameron McCaffrey both earned All-NSIC First Team honors in 2010-11. Jansen, a 6-foot-9 forward from Orange City, Iowa, is averaging 17.1 points and 5.8 rebounds per game for Augustana this season.
Jansen has scored 12 or more points in 23 of 28 games this season and has recorded six double-doubles. The sophomore has posted 20 or more points in a game 11 times in 2013-14 including 31 against U-Mary on Jan. 3 and a career-high 37 at Upper Iowa on Feb. 21. In conference games, Jansen averaged 17.5 points and 5.5 rebounds per game while shooting 49.4 percent from the field, including 45.6 percent from 3-point range.
Jansen finished the conference season ranking sixth in points, 19th in rebounding, seventh in 3-point field goal percentage and 11th in offensive rebounds. Schilling, a native of Ellsworth, Minn., currently leads Augustana averaging 18.5 points and 8.3 rebounds per game while shooting 50.3 percent from the field.
Schilling, a 6-foot-6 forwards, has led Augustana in scoring 16 times this season and in rebounding 17 times this season.
He led the Vikings with 53 steals (1.8 per game) and 37 blocks (1.3 per game) and ranked second with 87 assists (3.0 per game).
Schilling has scored 20 or more points in a game 12 times this season, including 12 or more in 27 of 28 games. Schilling built a strong resume for player of the year awards from the league, finishing second in scoring (19.0 points per game), fourth in rebounding (8.5 per game), 10th in assists (3.2 per game), fourth in steals (1.8 per game), sixth in 3-point field goal percentage (45.7 percent), 13th in blocks (0.9 per game) and assist to turnover ratio (1.4).
In other postseason honors from the NSIC, Zach Monaghan was named the league's player of the year while Winona State's Kellen Taylor earned defensive player of the year honors. Riley Bambenek, also of Winona State, earned NSIC Freshman of the Year honors while Bemidji State's Brock Lutes was named the NSIC's Newcomer of the Year.
Minnesota State head coach Matt Margenthaler was named the league's coach of the year for the third time in his career. Augustana is coming off a 66-64 win over Northern State in the first round of the NSIC/Sanford Health Men's Basketball Tournament last night.
The Vikings advanced to the quarterfinal round of the conference tournament which will be played at the Sanford Pentagon in Sioux Falls. Augustana, the No. 5 seed in the South Division, will take on the South's No. 1 seed Minnesota State at 8 p.m. on Saturday, March 1.
Courtesy: Augustana College