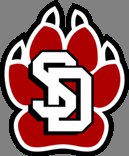 VERMILLION, S.D.—South Dakota rebounded from a 19-point, second-half deficit to beat North Dakota State, 95-87, in overtime Thursday night at the DakotaDome.
The Coyotes (16-12, 7-6 Summit) won for the fifth time in six games and improved to 11-1 at home this season. The Bison (6-22, 2-11) have lost six in a row and will be the No. 7 seed against second-seeded IUPUI in the upcoming Summit League Tournament.
South Dakota got 23 points from Polly Harrington and double-doubles from point guard Tia Hemiller (14 points, 10 rebounds) and reserve center Margaret McCloud (16 points, 11 rebounds). The Coyotes out-scored the Bison 46-30 in the second half and 16-8 in overtime.
The Coyotes' comeback negated identical 31-point, eight-rebound efforts from North Dakota State's Marena Whittle and Holly Johnson. Whittle was 15 of 27 from the field. Johnson was 10 of 23 and hit a game-tying 3-pointer with 33 seconds left in regulation that tied the game at 79-79 and forced overtime. Johnson was 5 of 10 from beyond the arc.
South Dakota trailed 49-33 at halftime and 52-33 after Brooke LeMar hit a trey to open the scoring in the second half. Less than 10 minutes later, McCloud scored a layup in the lane that tied the game at 55-55.
McCloud and Harrington combined for 23 second-half points on 9 of 10 field goals. The Coyotes made 19 of 34 shots after halftime for 55 percent.
Hemiller made 1 of 2 free throws on the opening possession of overtime and Harrington hit a 3 on the next possession that gave USD its largest lead of the game at that point, 83-79. USD was 2 of 11 from beyond the arc prior to Harrington's 11th triple of the season.
Johnson answered with a bucket on the opposite end to make it 83-81, but the Bison made 2 of 9 shots in the extra period.
Harrington made two free throws and McCloud converted a three-point play with 1:42 left that extended USD's lead to 88-81. USD made 5 of 6 free throws down the stretch to close out the win.
Bryan BoettcherSports Information Director
University of South Dakota