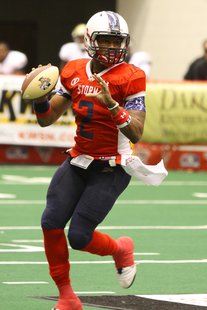 Sioux Falls, SD (KWSN)- The Sioux Falls Storm and Head Coach Kurtiss Riggs are proud to announce that Chris Dixon will be returning to the team as quarterback for the 2014 season.
Dixon carries what is possibly the most impressive resume in indoor football history. His list of accomplishments include being a four-time IFL Champion, three-time IFL MVP, two-time IFL Offensive Player of the Year, two-time United Bowl MVP, as well as becoming the first indoor football player to throw for 500 career touchdowns.
Dixon led the Sioux Falls Storm to IFL Championships in 2011 and 2012. During those two MVP seasons, Dixon racked up 7,405 passing yards, 167 passing touchdowns, 1,474 rushing yards and 57 rushing touchdowns, while throwing only 18 interceptions.
"When Chris reached out to us that he wanted to move back to Sioux Falls, finish school and graduate from Augustana College, it was an easy decision to tell one of the greatest indoor players that we would love to have him come back and lead our team," said Storm Head Coach Kurtiss Riggs. "Chris and I have a very close relationship, and we kept in contact during his time away from the Storm. We are very excited to reunite back on the field."
"I had a great experience in the Arena League and learned a lot. But in my heart I know I'm nothing without my kids and not seeing them for six months last season made me realize what life is about. It's about family and happiness, which is what I felt when I played here for the Storm," said Chris Dixon. "I missed the fans, teammates and coaching staff. I'll also have the opportunity to finally graduate from Augustana this semester. All of this made playing in Sioux Falls a pretty easy decision."
"The only way you can replace a legend is with another legend. We are excited that Chris has decided to choose Sioux Falls as the community that he and his family want to settle into," said Storm owner Todd Tryon. "It says a lot about the type of community we have here. If he can still play a little QB, even better!"
Player Information:Chris Dixon – QuarterbackHumbolt State Sioux Falls Storm 2011-20125-Time Indoor Football Champion3-Time MVP2-Time Offensive Player of the Year
Courtesy: Sioux Falls Storm