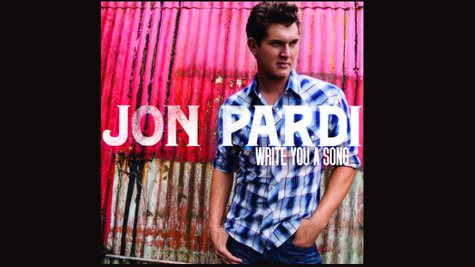 Jon Pardi releases his debut album, Write You a Song , on Tuesday, but many of his fans already know the words to every one of the songs on the project, including his latest hit, "Up All Night." Jon has had the luxury of testing these songs on concert crowds over the past few years, and the ones that connect with his fans -- or "Pardi Animals" as he calls them -- were the ones that ended up on the album.
Jon tells ABC News Radio, "That's what's cool about this album. The fans, they just can't wait to get 'em. It may not be a huge fanbase, but they're starting to be a little one, and, you know, they're waiting for these songs."
While working on the album, Jon has also refined his songwriting skills and learned to really honor his musical influences, including Buck Owens , Dwight Yoakam and Gary Allan .
He explains, "I've learned a lot about lyrics and really learning to stick to my instinct -- the 'soul power,' I call it of a songwriter and using that instead of trying to just kinda do what everybody else is doing. I write the songs I would like to hear."
As for promoting the new album, Jon says his family members are giving his record label staff a run for their money.
"I know my family is gonna be all over it," Jon says with a laugh. "They're already all over Facebook. Like, they love Facebook. Everything we post or any article that comes out, they're on it. They're the biggest Pardi Animals there are."
In addition to the 11 songs on Write You a Song , Jon is offering a bonus track, "Drinkin' with Me," exclusively at JonPardi.com for a limited time.
Copyright 2014 ABC News Radio