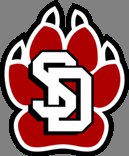 MACOMB, Ill.—As well as things had gone during South Dakota's five-game winning streak inside the DakotaDome, they went as badly on the road Thursday at Western Hall.
Western Illinois shot 62 percent from the field, enjoyed a 34-19 rebound advantage and handed USD its first Summit League loss of the season, 79-61. The Leathernecks got a game-high 21 points from standout freshman Garret Covington to end the Coyotes' longest win streak in three seasons.
USD (8-10, 3-1 Summit) held opponents to fewer than 60 points per game and to 40 percent shooting during five wins in Vermillion, but couldn't duplicate its defensive effort on the road where the team is 1-8 this season. The Leathernecks (8-11, 2-2) made 28 of 45 shots including 7 of 10 three's and were 16 of 18 from the free-throw line.
Western put four players in double figures and got an eight-point, nine-rebound effort from Mohamed Conde. Covington was 4 of 5 from beyond the arc, 7 of 7 from the line and had seven rebounds and three assists.
The Coyotes got a game-high 11 points and five rebounds from Tyler Flack. Brandon Bos and Adam Thoseby added 10 points each. Casey Kasperbauer was 6 of 6 from the line and hit a 3 for nine points.
South Dakota made 20 of 52 shots for 38 percent shooting. The team trailed 33-21 at halftime and saw Western make its first nine shots of the second half to erase any thoughts of a Coyote comeback. When Covington missed his first 3 of the night, the Leathernecks led 55-33 with less than 12 minutes remaining.
Adding to the misery, USD sophomore point guard Trey Norris left with an injury early in the second half and did not return. Norris is the Summit's leader in both assists and assist-to-turnover ratio. The Coyotes travel across the state of Iowa tommorow and will take on Omaha at 1 p.m. Saturday in Nebraska.
Author: Bryan Boettcher