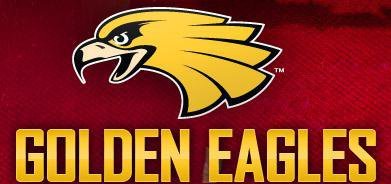 Crookston, MN (KWSN) - University of Minnesota Crookston Director of Athletics Stephanie Helgeson announced the addition of Steve Gust as head baseball coach for the Golden Eagles. A native of East Grand Forks, Minn., Gust is no stranger to the region having coached at the University of North Dakota and Sacred Heart H.S., prior to helping to turn around the program at Northland Community and Technical College. Gust spent the past six seasons as the head coach at Dakota Wesleyan University in Mitchell, S.D.
"We are excited to add Steve Gust to the UMC athletic department as head baseball coach," Helgeson said. "He brings to UMC an incredible amount of experience as a head baseball coach at Northland Community and Technical College and Dakota Wesleyan College. In addtion, as an East Grand Forks native, he is familiar with the recruiting territory and has had tremendous success bring in talented players from Northwest Minnesota and the surrounding area to his previous institutions."
Gust has accumulated over 150 wins in his six seasons. His time at Dakota Wesleyan was highlighted by his first two seasons at the helm in which he posted records of 35-18 and 32-21. His 2009 squad was crowned Great Plains Athletic Conference (GPAC) Tournament Champions and earned a chance to play in the NAIA National Tournament. Four of his six squads at Dakota Wesleyan placed in the top four in the GPAC.
In 2014, Gust led Dakota Wesleyan to a 27-24 mark. The Tigers battled several NSIC teams on the season, falling just short in three games against Minot State University and Northern State University. His 2014 team was highlighted by All-GPAC First Team pitcher Kyle Larson, a Red Lake Falls, Minn., native. Gust has found much success with players from Northwest Minnesota, including Larson and 2013 GPAC Player of the Year Michael Lukasson from East Grand Forks, Minn and 2012 GPAC Pitcher of the Year Ethan Opsahl from Twin Valley, Minn.
Gust's teams also found success off the field, as his 2014 team maintained a 3.03 Grade Point Average (GPA) during the 2013-14 academic year.In six seasons at Dakota Wesleyan, Gust coached 47 All-GPAC selections, three GPAC Gold Glove winners, one GPAC Pitcher of the Year, one GPAC Player of the Year, two All-Americans and 11 NAIA Scholar-Athletes.Prior to arriving at Dakota Wesleyan, Gust spent four seasons as the head coach at Northland Community and Technical College. Gust left the school as one of the most successful coaches in program history. His Pioneers' teams went 92-75 over four seasons, and Gust earned Minnesota Community College Conference North Division Coach-of-the-Year honors in 2005. NCTC qualified for the MCCC State Tournament all four seasons. In his final season at NCTC, Gust led the Pioneers to a school record 27 wins and a second-place finish at the State Tournament. His squad also advanced to the NJCAA Region 13 Tournament in 2008, where they finished third. Gust also spent his summers coaching the East Grand Forks American Legion baseball team and amassed 466 total victories.
Prior to taking over Northland Community and Technical College, Gust spent a season as a volunteer assistant at his alma mater, the University of North Dakota. Before making the transition to college baseball, Gust served as the head coach at Sacred Heart H.S. in East Grand Forks, N.D. He was named Coach of the Year three times during his time at Sacred Heart, while amassing 132 wins.In 2010, Gust spent the summer as an assistant coach for the Mankato Moondogs, who are a part of the Northwoods League – one of the top collegiate leagues in North America. He helped coach seven players who went on to sign pro contracts.
In 2012, Gust was chosen as a head coach for the U.S. Baseball Championships North vs. South All-Star Game in Virginia. The game, which featured high school baseball players ages 17 and under from around the United States, was nationally televised.
Gust graduated from UND in 1993 with a degree in physical education and coaching. In 2010, he graduated with a master's degree and education policy and administration from Dakota Wesleyan. He is married to Anita and has three sons, Trenton, Jaeden and Tommy John.
Courtesy: Minnesota-Crookston Sports Information