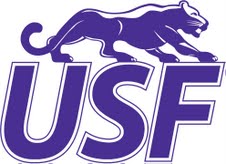 Stephanie Pendrys
SIOUX FALLS, S.D. (MARCH 21, 2014): University of Sioux Falls President Mark Benedetto announced today at a 2 p.m. news conference held on the university's campus that Josh Snyder is USF's new director of athletics, effective May 1.
"Josh proved to be an impressive candidate with vast experiences in athletic development and NCAA compliance" said Dr. Benedetto. "In my perspective, athletic administrative leadership at USF, within the NCAA Division II and Northern Sun Intercollegiate Conference, begins with our steadfast commitment to ensure an environment that protects and enhances the physical and educational well-being of our student-athletes."
Snyder most recently served as senior associate athletics director for compliance and development at the University of Missouri-Kansas City. He came to UMKC from Boise State University, where he served as executive director for NCAA compliance after serving at Iowa State University in three senior athletic leadership positions. From 2001-2003 Snyder was an associate and assistant athletics director at the University of South Dakota and an assistant in compliance at the University of Nebraska Omaha. He received a bachelor's degree in exercise and sports sciences from ISU and earned his Juris Doctor from Creighton University School of Law.
In addition to Snyder's impressive credentials and experience, Benedetto said he was impressed by Snyder's genuine affinity for South Dakota and Sioux Falls.
"I thought Josh scored extremely high in the 'likeability factor' and am convinced he will not only prove to be a great fundraiser but will also be a great 'friend raiser' for USF," said Benedetto. At UMKC Snyder was responsible for the daily operations of the Kangaroos' athletic compliance office to ensure strict adherence with university, conference and NCAA rules and regulations for amateurism, eligibility, recruiting, financial aid, awards and benefits. He also worked with athletic academic advisors to create and maintain compliance monitoring mechanisms that supported all 16 teams.
At Boise State, Snyder served as a senior staff member for the compliance department. He began his appointment with the Cyclones in 2003 as the director of compliance and moved up the ranks and was named assistant athletics director in two years.
During his time at Iowa State, Snyder was part of a Cyclone administrative staff that led an unparalleled rise in varsity sports. Iowa State set institutional records in the National Association of Collegiate Directors of Athletics Director's Cup standings, vaulting from 123rd in 2003 to a school-record 34th place at the end of 2009-10. During his tenure, the Cyclones won five Big-12 championships in several different sports.
At USD, Snyder was involved in athletics fundraising, marketing, facilities planning, compliance and student academics and athletics services."I want to thank Dr. Benedetto, the university's senior leadership team and the search committee for their confidence in me," said Snyder. "From my first conversation with Dr. Benedetto through my interview and eventual hiring, I had a feeling this was the place my family was meant to be. I'm excited to work with the USF community to continue building an athletics program of the highest caliber."
Snyder added, "USF athletics is filled with potential, only some of which has been realized, and my goal is to tap the energies, passions and resources of the Sioux Falls community, alumni and friends from around the country to build a program of national prominence."
USF's interim director of athletics for compliance/senior woman administrator Pam Gohl chaired the search committee.
"Based upon his academic qualifications and athletics administrative experience, the search committee placed Josh high on our list from the very beginning," Gohl said. "I want to thank the committee for their diligent work and ability to identify several excellent candidates. We are excited about Josh's acceptance of the university's offer and his ability to advance USF athletics forward within Sioux Falls, the NSIC and on a national stage within the NCAA DII."
Benedetto thanked Gohl and Vice President of Human Resources Julie Gednalske for their expertise and leadership, while noting the professionalism displayed by members of the search committee, president's cabinet and coaching staff.
Snyder and his wife, Tricia, have three children: Kelsi (14), Andrew (11) and Jaci (9).