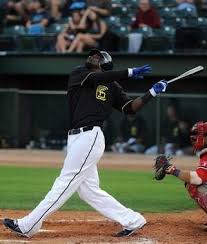 Winnipeg, MB (KWSN)- Winnipeg Goldeyes manager Rick Forney announced today the signing of veteran outfielder Reggie Abercrombie to a contract for the 2014 season.
Abercrombie, 33, has played parts of the last four seasons in the American Association with the Sioux Falls Canaries, hitting .316 with 54 home runs and 213 RBI in 242 games with Sioux Falls. He also played parts of three seasons in the Major Leagues with the Florida Marlins and Houston Astros from 2006-2008.
"We are super thrilled to have Reggie join the Goldeyes organization. With Rhyne Hughes not being able to come up and join our team, we needed to find someone that could replace Rhyne in the middle of the lineup and be an impactful guy. He's the best guy out there for that role," Forney said of Abercrombie, who started the season in the Mexican League with Monclova, where he hit .314 with four home runs and 16 RBI in 16 games.
The only player to have a 20/20 season in the American Association when he hit 22 home runs and stole 34 bases in 2010, Abercrombie has played 14 professional seasons. He reached the pinnacle on April 4, 2006 when he suited up for the National League's Florida Marlins. He went on to play 111 games with the Marlins in 2006, batting .212 with five home runs and 24 RBI in 255 at-bats. The following season he appeared in 35 games with Florida and another 34 games with the Astros in 2007. In 180 Major League games, he batted .223 with 9 home runs and 34 RBI.
A career .280 hitter in the minor leagues, Abercrombie is a true power threat. He's averaged 22 home runs and 82 RBI during the last four seasons in the American Association and Mexican League.
After being drafted by Los Angeles Dodgers in the 23rd round of the 1999 MLB amateur draft, Abercrombie played the next 10 seasons in the affiliated ranks with the Dodgers, Arizona Diamondbacks, Marlins and Astros. During that time, he spent parts of four seasons at Class AA and seven seasons at Class AAA. He's a career .290 hitter at the Class AAA level.
The Goldeyes now have 26 players on their roster, including 14 pitchers and 12 position players.
The team's annual Open House takes place tomorrow from 10 a.m. to 2 p.m. at Shaw Park. The players will take to the field at 11 a.m. to begin training camp.