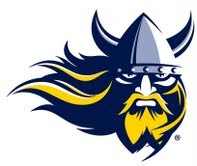 SIOUX FALLS, SD (kwsn) - In the final event of the Howard Wood Relays' first day, Augustana's Kristin Brondbo and Kyle Blakeslee recorded provisional qualifying times ranking in the top 20 of Division II and CJ Ham broke yet another Augustana record.
Brondbo and Blakeslee finished second and third, respectively, in the women's 5,000-meter run under the lights of Howard Wood Field. With her 16:54.84 time in the 5k, Brondbo narrowly missed winning and Blakeslee was right behind her teammate with a time of 16:55.53. Meritxell Delgado (17:28.84) took fourth in the event as the trio of Vikings were the three highest finishing Division II runners.
Taking down another of his coach's records, Ham recorded an eighth-place heave of 48.81 meters (160-02) to overtake Kevin Knapp's hammer throw record of 48.44 meters (158-10) set in 2010. Ham broke Knapp's weight throw record during the indoor season and improved that mark three more times.
Aduo Omot hit his first provisional qualifying time of the season in his specialty, the men's 800-meter run. As the top Division II runner in the race, Omot placed third with a final time 1:52.07. Henrik Hansson still holds the fastest 800-meter time for Augustana this season as Omot narrowed the gap, and Hansson placed sixth at the Howard Wood Relays in 1:52.07.
Augustana placed two women in the top eight of the 800-meter run minutes prior to the men's race. Kayla Mescher missed a provisional time by less than a half-second with her third-place 2:14.49 and Emma Anderson finished seventh in 2:17.34.
Kristi Porter recorded a season-best in the women's javelin when she was the fifth Vikings to place top-three at Howard Wood Field. The Edgemont, S.D. native's best mark of 38.77 meters (127-02) on Friday missed the NCAA qualifying standard by just over a meter.
The only other Augustana woman to place top-eight in a field event was Kelsey Kaufmann who tied for fourth in the women's high jump. Kaufmann cleared 1.63 meters (5-4 ¼) and finished as the highest Division II competitor.
Looking to improve his qualifying time in the men's 3,000-meter steeplechase, Adam Braun was hampered by windy conditions and finished fourth with a time of 9:30.82.
Anthony Huber returned to the track and field circuit with a fifth-place finish in the men's discus as the freshman recorded a best heave of 45.40 meters (148-11).
Fresh off setting the new Augustana women's 4x400-meter relay record, Anne Parsley and Carina Hofmeister placed top six in the open 400-meter dash. Parsley hit a personal-best with her fifth-place time of 57.95 seconds and Hofmeister was right behind her in sixth at 57.99.
Jason Greenway turned in a fifth-place performance in the men's 200-meter dash, setting a new season-best for the Vikings. Greenway's half-lap time of 21.90 seconds was nearly a second better than the previous fastest Augustana time in 2014.
The men's and women's 4x100-meter dash teams both clocked top-six times. The women's quartet of Kyerra Titus-Baer, Laura Popanz, Kirsten Nyberg, and Karmen Nyberg finished their combined 400 meters in 49.50 seconds to take fifth. For the men, Malik Glass, Jason Greenway, Justin Greenway, and Trevor DeSchepper took sixth in 43.27 seconds.
Augustana puts the finishing touches on the 2014 regular season tomorrow as they close the Howard Wood Relays in Sioux Falls with competition beginning at 9 a.m.
Courtesy: Agustana College