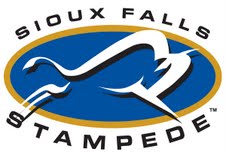 Sioux Falls, SD (KWSN) — The Sioux Falls Stampede are preparing for the upcoming 2014 USHL Drafts, next Monday and Tuesday. Phase 1 of the draft begins at 5 PM on Monday, May 5th while Phase 2 begins at 8 AM on Tuesday, May 6th. The Stampede hold the 13th overall pick in each draft. The selection order is based on the reverse order of the 2013-14 season.
Phase 1 consists of eight (8) rounds as USHL teams will select players from the 1998 birth year. This single-age portion of the USHL Draft allows teams to choose players who are traditionally not ready to play in the USHL the following season, but will continue to develop at lower levels of hockey in preparation for USHL play in future seasons. While not yet USHL full-timers, a number of those players will see game action in the coming season.
In Phase 2, USHL teams will select players from multiple birth years as they look to fill their protected lists with players who will compete for roster spots for the 2014-15 season. The draft continues until all USHL teams have secured 45 players on their Initial Protected List. That list includes affiliate players from the 2013-14 season, players selected in Phase 1, and players signed to a tender.
Picks in Phase 1 will be announced on a live broadcast at www.ushl.com. The USHL Draft Show is being provided for free via FASTHockey, the USHL's exclusive digital video network and will begin at 5 PM. Fans can follow the Stampede's picks in Phase 2 of the draft by following the Herd on Twitter @sfstampede. A complete recap of the Stampede's selections will be made following the draft at www.sfstampede.com.
The Stampede will begin play at the state-of-the-art Denny Sanford Premier Center this October for the 2014-15 season. Get priority seating now by placing a deposit on season tickets. Call 336-6060 to place your deposit and get in line to watch Stampede hockey like you've never seen before.