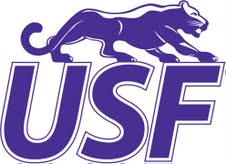 SIOUX FALLS, SD (KWSN) – The second day of the Howard Wood Dakota Relays did not disappoint for the Cougars as they had several impressive performances. Over the weekend, the Cougars notched two NCAA automatic qualifying marks, three NCAA provisional qualifying marks and three school records.
Katlyn Sawtelle came away with a runner-up finish in the 100m hurdles with her school record time of 14.51. Sawtelle also finished 3rd in the long jump when she recorded a mark of 17-4.75 (5.30m).
In the 1500m run, Bobby Brockmueller finished 2nd overall and was the top collegiate finisher with his NCAA provisional qualifying and school record time of 3:52.93. Brockmueller's time is the fastest run in the NSIC this season.
Scott Greenman finished second in the Pole Vault with his NCAA automatic qualifying and school record vault of 16-11.5 (5.17m). Greenman currently holds the top mark in the NSIC and the 3rd best mark in DII this season.
Kaleb Lindsey-Stevens finished 3rd in the Long Jump with his leap of 22-5 (6.83m).
Jordon Bents finished 3rd in the Shot Put with his NCAA provisional qualifying toss of 51-3.5 (15.63m).
The Cougars will compete next at the NSIC Outdoor Track & Field Championships on May 2-3 in Winona, Minn.
Courtesy: University of Sioux Falls