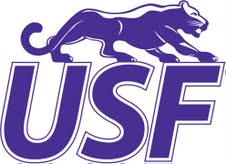 BURNSVILLE, MINN. (KWSN): University of Sioux Falls women's golf junior Tavia Rutherford (Bakersfield, Calif./Frontier) has been awarded the Butch Raymond Scholarship, it was announced today by the Northern Sun Intercollegiate Conference office in Burnsville, Minn.
The $5,000 scholarship is sponsored by Sanford Health and is given to one student-athlete from each of the 16 institutions.
The scholarship is in recognition of Butch Raymond, the NSIC's Commissioner from 2004-2014. Over the past decade, Raymond led the NSIC from an eight-team league to a 16-team conference, which has won 13 team national championships, while also achieving a high level of academic success.
"The NSIC has been an integral part of my life and it has been a very wonderful experience working here," Raymond said. "I want to thank Sanford Health and the NSIC for this honor. It definitely means a great deal to me and my family."
"Sanford Health has a long history of investing in education, and this seemed to be the perfect way to invest in our outstanding student-athletes who represent the schools of the NSIC," Kelby Krabbenhof, president and CEO of Sanford Health said. "It seems right and appropriate that Butch Raymond's name be attached to a scholarship for each school, recognizing his efforts in making the NSIC one of the best Division II conferences in the country."
To be eligible for the scholarship, the applicant must be a senior in 2014-15, have a GPA of 3.20 or higher, be participating in intercollegiate athletics and plan to work in a health related field or attend graduate school in a health related field. The student-athletes will be publicly recognized at a home athletic event during the 2014-15 academic year.
"I am honored to have been selected for the Butch Raymond Scholarship," said Rutherford. "It is wonderful that Sanford Health and the NSIC have teamed up to create a scholarship to recognize 16 student-athletes who are pursuing a career in a health-related field."
She added, "I am excited to be a recipient along with 15 other great student-athletes from the NSIC."
Rutherford wrapped up another outstanding collegiate campaign at the 2014 NCAA Central Super Regional in Lake Elmo, Minn. She carded a three-round score of 232 (+16) to finish in a tie for 10th place and just one stroke shy of qualifying for the NCAA national championship. A two-time NSIC first team selection, Rutherford was also recently named to the CoSIDA Academic All-District 7 Women's At-Large Team.
Rutherford is an exercise science major at USF and has compiled a perfect 4.0 GPA. She is the daughter of Kirk and Cindy Rutherford.
Courtesy: USF Sports Information