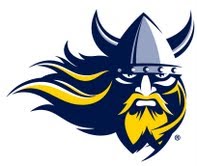 Sioux Falls, SD (KWSN) - A combination of youth an experience represent Augustana's biggest group of qualifiers in 2014, combining for six outdoor All-American finishes.
• Headlining the women are Kyle Blakeslee and Kristin Brondbo who are each competing in two individual events.• Blakeslee registered the only automatic qualifying mark for Augustana this season, and will be seeking her third All-American finish in the women's 3,000-meter steeplechase in the Thursday prelims.
• The Cannon Falls, Minn. senior placed fourth in the 2011 and 2012 NCAA Championships in the steeplechase and won her fourth NSIC steeplechase title two weeks ago.
• Blakeslee's automatic-qualifying 10:23.84 is the second-seeded time in the 21-athlete field and she holds the record in the steeplechase for both Augustana and the NSIC.
• As two of the most decorated runners in Augustana history, Blakeslee and Brondbo will run for the Vikings in the women's 5,000 meters on Saturday evening.
• Both seniors hit their qualifying times at the Howard Wood Relays and Brondbo comes in seeded 20th and Blakeslee 21st.
• Brondbo will also be seeking another All-American finish in the women's 1,500-meter run when she begins competition in the metric mile prelims on Thursday.
• Her NSIC meet-record breaking time of 4:30.69 has her seeded 11th in the 21-athlete field.
• The Steinkjer, Norway senior placed sixth at the 2011 NCAA Championships to earn her only outdoor All-American honors and she has eight total All-American finishes in her cross country and track and field career.
• The third Augustana women's distance runner is making her first NCAA Championship appearance as Merixtell Delgado qualified for the women's 10,000-meter run.• With her fifth-place finish at the Drake Relays, Delgado clocked a 35:38.55 to finish as the highest Division II runner and earn a spot in the 21-athlete field.
• A native of Barcelona, Spain, Delgado is seeded 13th for the Thursday-night finals.
• Kayla Mescher qualified for the NCAA Outdoor Championships for the first time in her junior season after breaking a pair of Augustana records.
• Hailing from Brighton, Colo., Mescher defended her women's 400-meter hurdles NSIC Championship and qualified with an Augustana record 1:00.46.
• Seeded 18th in the 21-athlete field, Mescher begins her competition in the Thursday-night prelims.
• Mescher will be joined by three teammates who will be seeking Augustana's first All-American finish in a women's relay and first overall since 1995.
• Colleen Everson (Slayton, Minn.), Carina Hofmeister (Hamburg, Germany), and Anne Parsley (Flandreau, S.D.) combined with Mescher to run a 3:45.19 which broke the Augustana record and earned them the No. 13 seed in the 15-team field which begins with prelims on Friday night.
• Parsley, Everson, and Mescher were joined by Charissa Etrheim (Brandon, S.D.) to take second at the NSIC Championships and earn All-American honors.• Headlining Augustana's men is Aduo Omot who is seeking his fourth All-American finish in the men's 800-meter run.
• By winning the NSIC Championships, the Worthington, Minn. native clocked a 1:50.45 to earn the No. 10 seed in the 20-athlete field.
• Omot won the outdoor 800-meter national title in 2011 and has finished no worse than sixth in his three trips to the NCAA Championships.
• Harald Karbo qualified for his second NCAA Championships in the men's 3,000-meter steeplechase after recording a 9:06.47 at the Kansas Relays.
• Carrying on Augustana's strong Norwegian ties, Karbo hails from Stord, Norway and earned a spot in the 2013 NCAA steeplechase finals before taking 11th.
• Henrik Hansson broke through to earn a spot in the men's 1,500-meter run field when he won the NSIC Championship race in 3:50.12.
• The Stromstad, Sweden native is making his first NCAA outdoor appearance but has earned two indoor All-American honors including a national championship as part of Augustana's distance medley relay teams in 2012 and 2014.
Courtesy: Augustana Sports Information