« Shows & Personalities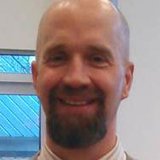 Dusty Fields
On Air:

Saturday, 6am - 10a / Sunday, 6pm - Midnight

Email:
My days of radio started in SPAM Town USA...Austin, MN. There was a class on broadcasting in high school and it looked interesting, so I took it. By far the most fun I had in school. After graduation from Austin Central I enrolled at Augustana and got involved in the college radio station, even worked my way up to General Manager. Radio followed me into adulthood...which is where I find myself now, as the"utility" player for Midwest Communications.

Confession time: I was never a country music fan growing up. I loved (and still do) all the hair bands of the 80's. I started appreciating country music about the time I had children. "Family Friendly" radio!

I have really enjoyed my time with the fans of KTWB, a great group of people living in the best state in the union. Even though I wasn't born and raised in South Dakota, I absolutely love it here and would NOT wish to live anywhere else...and the residents are the reason why. Thank you for listening to KTWB. We sincerely appreciate it.